By Clint Sandusky
YUCAIPA, Calif. (BRAIN) — As more law enforcement and other public safety agencies turn to e-bikes to enhance service to their communities, it is important for IBDs and manufacturers to understand how to meet their specific needs.
The goal here is to help sell appropriate products and services either directly to agencies or to parties donating e-bikes to them. Selling or donating inferior or inappropriate equipment negatively can impact a public safety cyclist's ability to operate safely and effectively.
Part One will focus on the specific e-bike needs of public safety personnel. Part Two, which will publish Dec. 29, will provide questions to ask your public safety customers.
Specific needs
The duty e-bike and key components: As the conventional mountain bike is typically the most practical and commonly used by law enforcement and other public safety personnel, so, too, is an e-MTB. The duty e-bike must be:
Quality, sturdy, and durable.
From a reputable manufacturer.
Properly fitted for the rider.
Designed and built to meet the specific needs of law enforcement and other public safety personnel.
Compliant with federal, state, and local laws. As noted in Use of e-Bikes by Public Safety Cyclists Position Paper — August 2020, International Police Mountain Bike Association "foresees potential safety concerns, legal limitations, negative community perceptions, and liability issues arising from treating OCEVs (Out of Class Category Electric Vehicles) like e-bikes and therefore urges agencies to differentiate between low-speed electric bicycles and higher-speed OCEVs with respect to training and operations. While OCEVs may have a place in a department fleet, they should not be incorporated into bicycle operations." See the position paper for more details. For information on OCEVs or what PeopleForBikes now refers to as Electrically Powered Devices (EPDs), see: PeopleForBikes Statement on Electrically Powered Devices.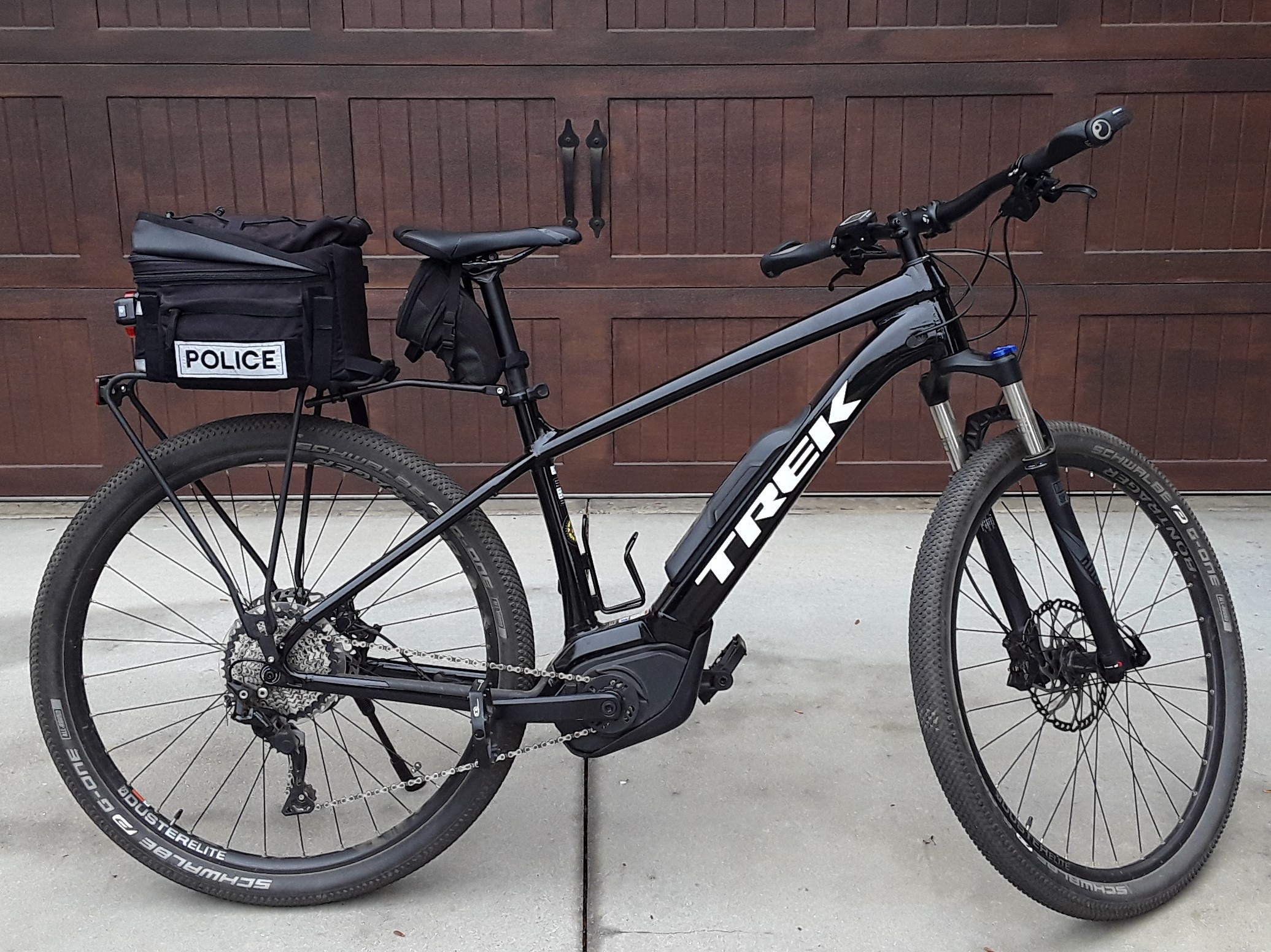 The duty e-bike must have:
Quality and legally compliant drive-unit system (important it also meets UL 2849 standards).
E-MTB-optimized fork (100mm-120mm travel).
Hydraulic braking system.
203mm rotors (two-piston, minimum).
Street/combination tires for urban or light trail use.
Some type of extra tube (puncture) protection.
Knobbies or fat tires only if primary use is off-road, in snow, sand, or mud.
Key Accessories
Flats pedals: Often preferable due to higher speeds and the need to dismount frequently and quickly. Flat pedals must be equipped with removable/adjustable pins and used with compatible footwear.
High quality rear-mounted kickstand (non-spring-loaded).
Water bottle cage capable (minimum one, attached to either downtube or seat tube).
High quality rear-mounted cargo rack. (EMS personnel may need a rear rack rated for a heavier load.)
Cyclocomputer (if not a feature of the display/computer).
Lighting systems
Must have high-intensity headlight, red taillight with steady and flashing modes. With more speed, comes the need for more lumens.
Aftermarket lighting systems (with headlights and taillights): Some offer integrated emergency lights that may be required depending on agency and/or legal requirements in jurisdiction. Brands that offer this versatility are, but not limited to, Code3Sports, Cygolite, NiteRider, and Serfas.
Integrated lighting systems (with headlights and taillights): Although an excellent feature for the civilian market, it is not needed if an agency utilizes an emergency lighting system. This would only duplicate headlight and taillight lighting, require even more rider manipulation and add to the cost of the bike.
It would be convenient if compatible plug(s) were included so emergency lighting systems could be connected to utilize power from the battery.
Siren or other audible warning device (must be compliant with applicable legal requirements).
Other accessories: Including, but not limited to, bar ends, fenders, and dropper posts should be offered as post-purchase/customer-preferred add-ons. This will keep the initial cost down, which was the No. 1 concern for public safety agencies from IPMBA E-Bike Survey, 2018/2019).
Type, class, drive unit, and battery recommendations
Type of e-bike: 27.5 or 29 hardtail e-MTB for normal urban and light trail use (27.5/29x2.25-2.50 tire sizes): A fat tire e-MTB (26x4-inch tire size) may be more appropriate for patrolling in sand, snow, or mud. Customers should be advised of the advantages, disadvantages, and differences between using a hardtail, fat tire or full suspension e-MTB (e.g 27.5 and 29 e-MTBs are more maneuverable than fat tire e-MTBs; fat tires are more comfortable but heavier).
Class of e-bike (must be compliant with applicable jurisdiction): Law enforcement — Class 3 (28 mph, pedal-assist only) for most law enforcement agencies is the best choice. Having an extra 8 mph for speed on demand could make the difference in getting out of a kill zone or responding to an "officer needs immediate assistance" call. Other public safety: Class 1 (20 mph, pedal-assist only) may be the best choice, including to reduce the overall cost of the bike.
Drive unit type: A mid-drive (preferably around 85 Nm torque, up to 340% or so support) acts and feels like conventional MTB. However, there are some public safety cyclists who use hub drive e-bikes and like them.
Battery: One attached battery, minimum of 500Wh. A second attached battery would only add extra weight and is not needed for typical bike patrol.
Other Considerations
Aesthetics (even bike officers like to ride cool-looking bikes).
Warranty (bike, especially the frame; motor and battery). A comprehensive warranty is important, especially for smaller agencies
Bicycle retail shops: Reliable technical service and quick turn-around time. Excellent customer service. Friendly relationship, especially important before purchase to have some/all of the end users (public safety personnel) of the e-bikes come into your shop to test ride and to be properly fitted.
Weight: 50-60 pounds is ideal for a typical bike patrol. Most conventional police bikes weigh about 35 pounds. As noted in IPMBA's position paper, "The increased weight of an e-bike may have a negative effect in tactical situations where the bike may need to be lifted or moved by means other than riding. Some of the defensive tactics taught to EMS cyclists are more difficult to perform with the weight of the bike coupled with the weight of the EMS equipment." The maximum total weight (combined weight of bicycle, rider, and cargo) must be taken into consideration (for safety and warranty compliance). An officer's duty gear adds an extra 10-20 pounds to their overall rider weight. Equipment carried adds to the total weight of the e-bike. EMS personnel can carry more than 20 pounds of life-saving equipment in their panniers. It may be necessary for public safety cyclists to select a more durable duty e-bike, adding additional weight.
Performance (e-bike, its components, and accessories).
Functionality (including the ability to add and/or remove accessories and equipment).
Ease of use (especially the rider interface-display/computer and mode switch). Many public safety cyclists are not interested in nor need more technical features.
Cpl. Clint retired in 2016 after a 24-year career in law enforcement, both with the Los Angeles County Sheriff's and Riverside Community College District police departments. While with RCCD, he was a bike officer for 23 years and has been an active CA POST-certified Bike Patrol Instructor for 28 years. Sandusky has taught, presented, authored, and consulted in e-bike training and content to law enforcement and the cycling community/industry both in California and nationally. He is a member of IPMBA's E-Bike Task Force and conducts e-bike content at its annual conferences. He was recently asked to participate in PeopleForBikes' E-Bike Safety Task Force. The opinions and recommendations expressed in this column are his own. He can be reached at clint.sandusky@gmail.com.