"You are either at the table or you are on the menu," Specialized's Bob Margevicius tells Taiwan industry.
TAIPEI, Taiwan (BRAIN) — For the remainder of this decade, Taiwan's component makers will leave millions of dollars on the table  — and risk having other nations pick up the slack — unless its component manufacturers increase capacity as soon as possible, two global industry leaders say.
"There's a gold mine today in the bike industry, but you have to invest," Specialized Bicycles' Executive Vice President Bob Margevicius said at a forum here as the Taipei Cycle Online expo opened.
He said component makers appear "very reluctant to invest in additional capacity." 
Margevicius spoke live at the event, titled "2021 and Beyond: Smart Sporting and Smart Cycling," a kickoff for the month-long online bike expo and its sporting goods industry counterpart on Wednesday.
Ton Anbeek, the CEO of the Netherlands' Accell Group, also spoke to the group via a remote feed. Anbeek, whose company owns bike brands including Haibike, Winora, Ghost, Batavus, Koga, Lapierre, and Raleigh, said component makers could "profit enormously" if they invest.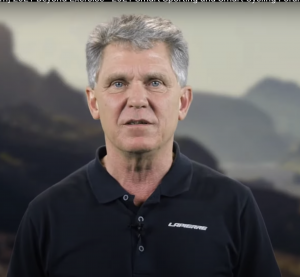 "To meet the growing demand in the coming years we need component suppliers to invest in extra capacity to produce more critical components and products as soon as possible," Anbeek urged. 
"And this needs, more than ever before, to be based on a long-term commitment and partnership between branded bike manufactures and component suppliers," Anbeek said. "Accell and its brands look forward to working with you to profit enormously from this very green and favorable market circumstance and trends."
On Friday Accell announced that its 2020 sales were up 17%, but warned that its 2021 first-half results would be hampered by delayed deliveries from component suppliers and other supply chain problems.
The bulk of Anbeek's presentation was on the growth potential of the global bike market and on Accell's strength in particular. Margevicius, in contrast, barely mentioned Specialized. He also explained the growth of the market in the last 12 months and then shared projections for the coming years. And he pointedly noted the delta between the projected demand and projected production levels. 
"We need component suppliers to invest in extra capacity ... as soon as possible" — Accell CEO Ton Anbeek
After an outlier year in 2020, Margevicius predicted that 2021 bike sales, globally, would be 9.5% lower than last year. But starting in 2022 he forecast sales to grow by 3.5% each year for the remainder of the decade.
He said despite increases in factory efficiencies in Taiwan, the industry lacks the capacity to fully respond to increased demand over the coming years.
"We are seeing a lot of factory efficiency gains of 10-15%. That isn't really helping us much, to be honest with ya," he told the forum.
A 10% annual increase in bike production will not keep pace with 8 years of steady 3.5% annual growth because the industry is starting over from a deficit — the 2020 boom depleted more than 8 months' of inventory that was in the system at the start of 2020. Rebuilding that inventory while also supplying current retail demand justifies a larger increase in capacity, he said.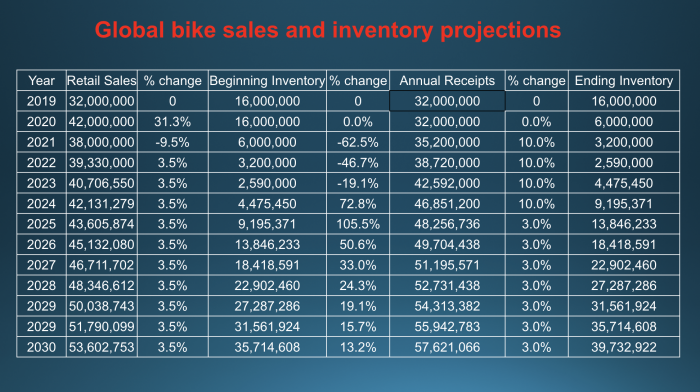 "Sixty-two percent growth is what everyone wants, but the industry can only deliver 10 (percent), so you can see the mismatch we have in this industry. Unless the industry figures out a way to service those needs, we are going to continue to have a mismatch," he told the group.
"The future is now, and industry leaders — all of you here, and suppliers — you need a sense of urgency and a mandate to believe and invest. It's critical to develop strategies that will enable the business to meet these growing consumer needs now and in the future. ... There's billions of dollars to be made and profits for those who believe and invest in a healthier and a stronger business."
Speaking to an audience largely from the Taiwan industry, Margevicius hinted that other nations will step up to supply the global market if Taiwan does not.
"My last point is: invest. You are either at the table or you are on the menu, you guys. If you are on the menu, believe me, there are other countries and there are other companies that will certainly have you for lunch."
Related: