WASHINGTON (BRAIN) — Bike imports were down steeply in the first half of the year compared to the year prior, even as the average import value of bikes increased significantly.
The U.S. imported about 1.4 million adult non-electric bikes through June, down 62% from the same period in 2022, when the U.S imported 3.6 million. In dollar value at port, the imports were worth $504 million, down 38% from last year's first-half value.
The figures are from Department of Commerce USA Trade data released Tuesday.  E-bikes lack a unique product code at import — they share a code with electric motorcycles, hoverboards and other electric cycles — making it difficult to include them in the totals. All the numbers in this article are for non-electric bikes.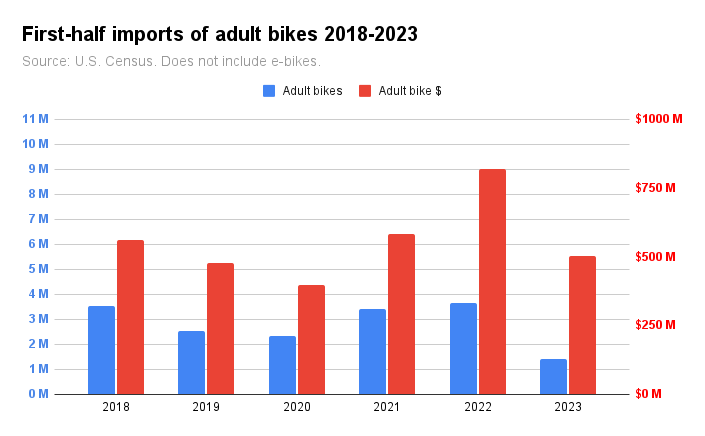 The average value of an adult bike at import in the first half this year was $360 — up 60% from a year prior.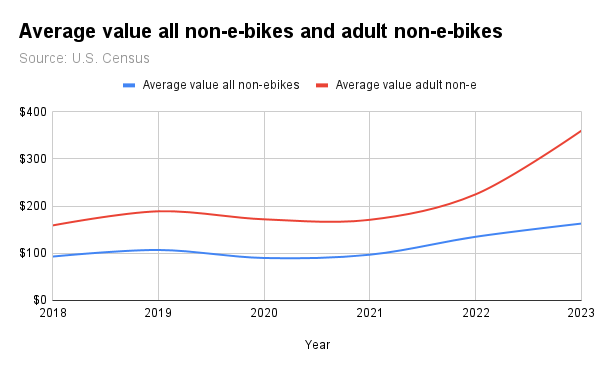 The vast majority of kids and juvenile bikes are sold through the mass market at very low prices, so pulling kids bikes out of the data gives a better view of the specialty market. But the cost increases affected both channels: When all non-electric bikes are counted, including the kids' bikes, the average value was $163, up 21% from the first half of 2022. 
As for country of origin, China remains the largest supplier in units by far, supplying 83% of the bikes so far this year. That's down from supplying more than 95% of the pie before the pandemic, however, mostly due to more bikes coming from Cambodia and Vietnam.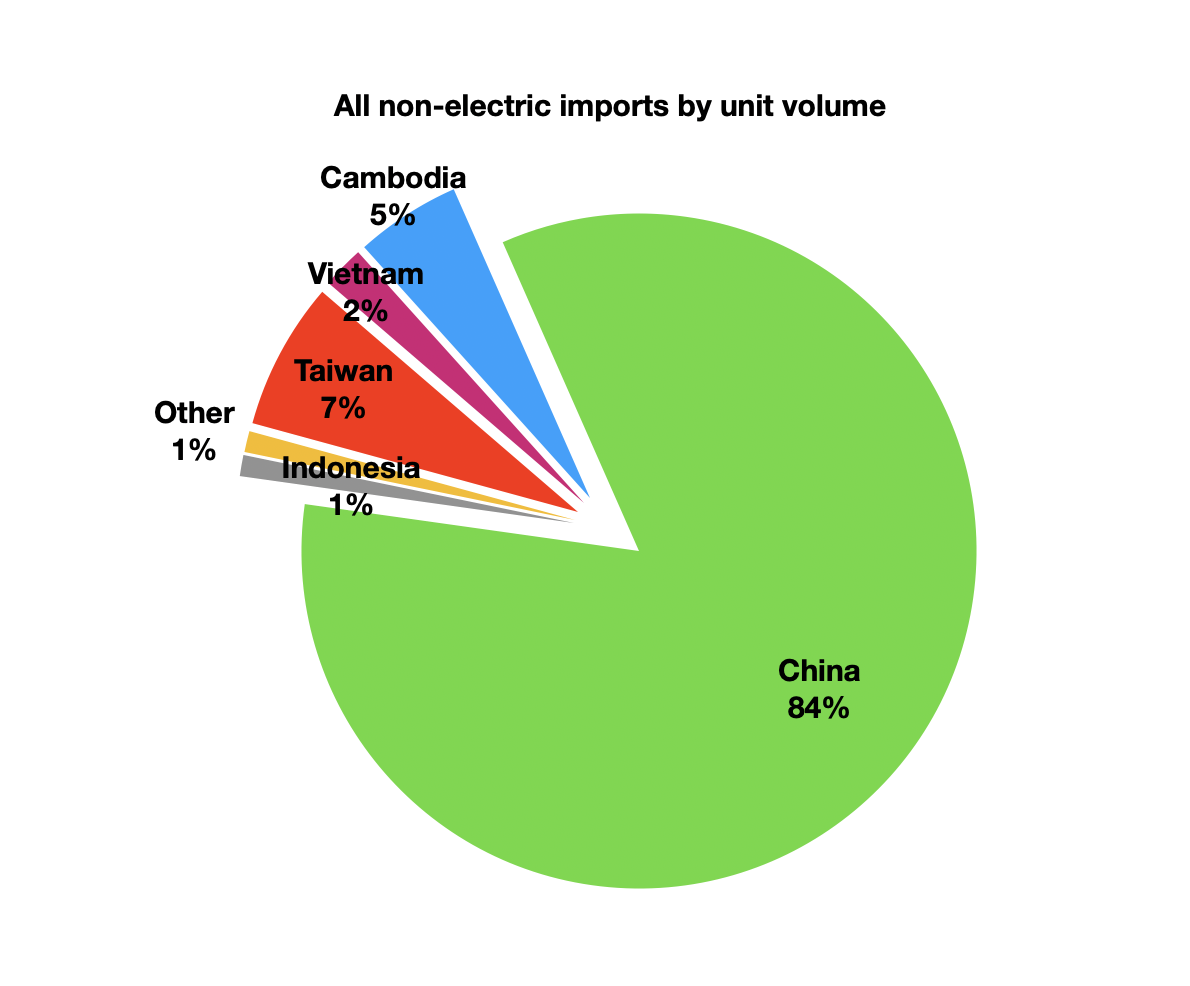 In the dollar value, however, Taiwan was the largest exporter to the U.S., sending over 45% of the value imported of all non-electric bikes. Cambodia and Vietnam are grabbing bigger slices of the dollar pie, as well, due to a higher average value per bike.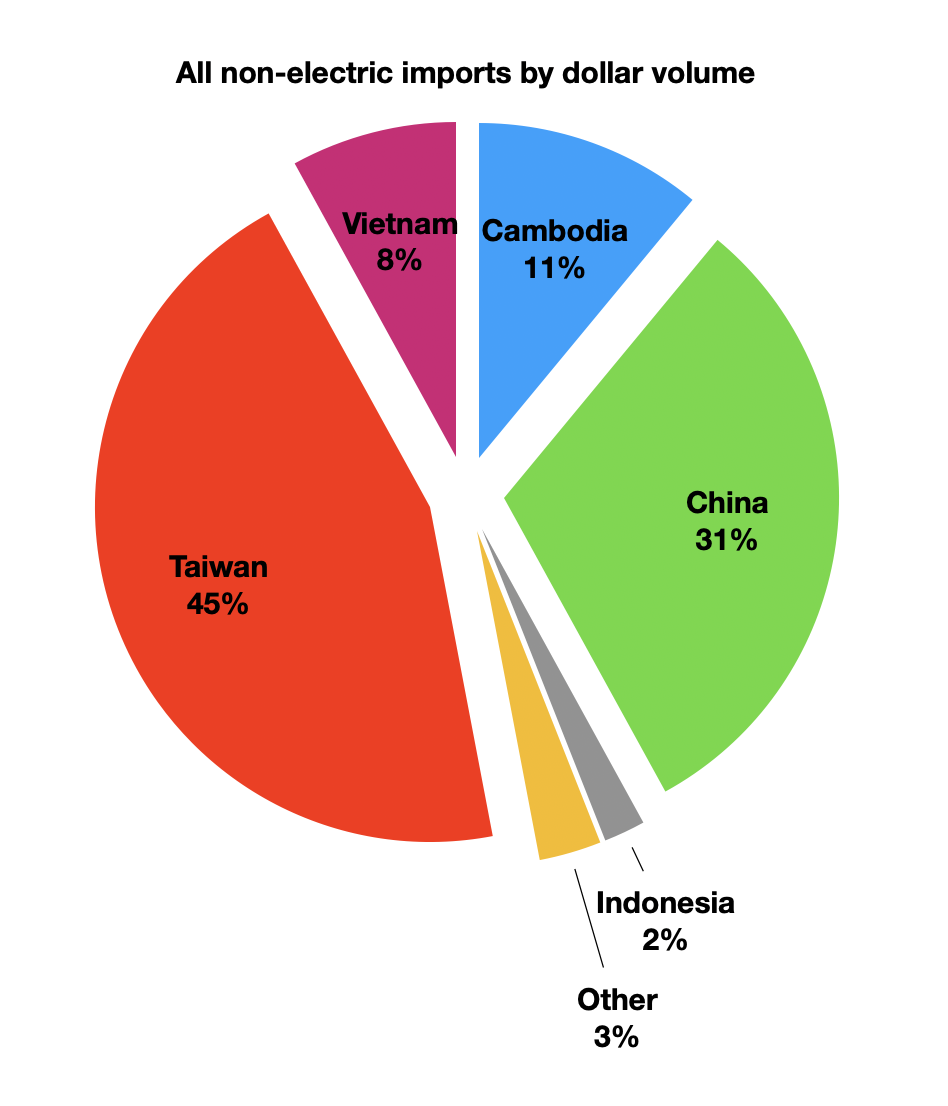 And if you subtract out the kids' bikes, China's contribution looks even more modest. Taiwan provided 54% of the dollars of adult bikes while China provided just 19% in the first half. Cambodia and Vietnam combined exported more adult bikes to the U.S., by dollar value, than China.