Co-op unveils its first electric mountain bike under its Co-op Cycles brand, and continues its focus on expanding its cycling assortment, education and programming to meet all levels of cyclists
SEATTLE, Sept. 26, 2023 /PRNewswire/ -- REI Co-op announces the launch of the Co-op Cycles DRT e3.1. This is the co-op's first electric mountain bike (e-MTB) designed in-house, that combines the thrill of mountain biking with the convenience of pedal-assist power to help more people get outside on their bikes. Designed to roll easily over technical, uneven terrain, this e-MTB joins an already robust Co-op Cycles offering of road, mountain, hybrid, and e-bikes.
"Experiencing the thrill of the ride on an e-bike is exhilarating, and we are pleased to introduce an all-around, high-performance, e-MTB option for our customers," says Isabelle Portilla, REI vice president, REI Co-op Brands. "We know e-bikes help more people get out and ride or get back into riding. This bike's selection of high-end components and pedal power, combined with REI's included maintenance support, offers tremendous value to riders so they can focus on having a blast on the trails."
The DRT e3.1 e-MTB specs include:
A Class 1 Bosch Performance Line CX mid-drive pedal-assist motor and a long-lasting Power Tube 625 battery
140-millimeter RockShox Recon Silver RL suspension fork
A RockShox Recon Silver RL fork and Deluxe Select Plus RT shock
Tektro 4-piston hydraulic disc brakes
An efficient SRAM SX Eagle 12-speed drivetrain
Tubeless-ready tires and rims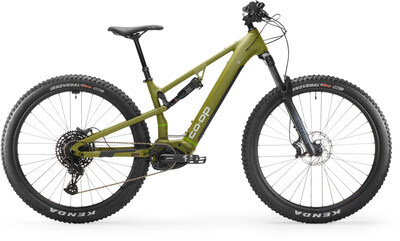 Consumer interest in e-bikes maintains a steady growth rate in the U.S. and at REI. Since 2021, the co-op has experienced consecutive years of 14+% growth in e-bike sales, and is in line with industry growth indicators suggesting popularity of this category will continue to rise over the next decade. The DRT e3.1 offers customers an additional cycling option to explore outdoor activities.
"REI is dedicated to providing the best cycling brands, resources, maintenance, care and educational experience for our customers and co-op members," said Gautham Rao, REI divisional vice president merchandising hard goods. "With REI's current bike assortment and our focus on being the best place to come for e-bikes, we continue to offer our customers excellent options and support to match their riding preferences and lifestyles."
The co-op's focus on e-bikes goes beyond new products. The co-op is committed to build stronger, customer relationships through service programs, guided trips, and educational resources. When purchasing an e-bike, customers can enjoy coast-to-coast support, including free flat tire fixes, a 20% discount on shop services, and one year of free adjustments. REI members receive two years of free adjustments. Additionally, customers can also find valuable information on e-bikes on REI.com, including Expert Advice articles on topics such as "how to choose an e-bike," "how to transport an e-bike with a car rack," "which accessories are essential for cycling," and more. REI members who purchase bicycles at REI can also trade-in their bikes for store credit through the co-op's Re/Supply, REI's used gear business.
Although e-bikes are permitted on many trails nationwide, there are still some areas where they are not allowed. REI recommends riders educate themselves on where e-bikes are allowed, and encourages riders to review resources such as People For Bikes Ridespot; Trailforks; TrailsAreCommonGround.org; specifically, the guide on natural surface trails identification guide; and MTB Project.
About the REI Co-op
REI is a specialty outdoor retailer, headquartered near Seattle. The nation's largest consumer co-op, REI is a growing community of 23 million members who expect and love the best quality gear, inspiring expert classes and trips, and outstanding customer service. REI has 184 locations in 42 states and the District of Columbia. If you can't visit a store, you can shop at REI.com, REI Outlet or the REI shopping app. REI isn't just about gear. Adventurers can take the trip of a lifetime with REI's active adventure travel company that runs more than 100 itineraries across the country. In many communities where REI has a presence, professionally trained instructors share their expertise by hosting beginner-to advanced-level classes and workshops about a wide range of activities. To build on the infrastructure that makes life outside possible, REI invests millions annually in hundreds of local and national nonprofits that create access to—and steward—the outdoor places that inspire us all.