The leading global trail mapping system for outdoor enthusiasts
London ( March 7th 2023) – Wahoo Fitness, the leading endurance athlete fitness technology company, have announced an integration with Outside Interactive Inc.'s Trailforks mapping app to the ELEMNT range of GPS bike computers. Outside Interactive Inc. is the world's largest creator of content, services, education, and experiences for more than 70 million outdoor and active lifestyle enthusiasts
The Trailforks mapping app harnesses user-generated data to supply the best possible mapping experience for planning rides and navigating trail networks. Within the app, users can discover trails near them, plan and track rides, find local events, and get the latest information about trail conditions. In addition, Trailforks provides a multitude of features including recommended rides, heatmaps, and trail reports to help discover the best trails & routes to ride around the world.
This new integration feature will allow users to sync routes from their Trailforks account directly to the Wahoo ELEMNT Bike Computers and ELEMNT Companion App. Users will be able to authorise their Trailforks account via the ELEMNT Companion app, and once authorised, all routes associated with the user's Trailforks account will sync to the companion app and to the ELEMNT Computer. Synced items from Trailforks will include Routes (curated routes from Trailforks database), Rideplans (user-created routes), and Ridelogs (historic rides in Trailforks that can be retraced). Trailforks Pro, the upgrade option, is not required to access this feature.
Trailforks Pro, priced at $59.99 per year with an Outside+ subscription, allows users to have unlimited access in the app to offline trail maps worldwide, and access every feature Trailforks has to offer. The Outside+ subscription is an industry-leading subscription built to fuel outdoor adventures. Subscribers get unlimited access to content from Outside Magazine, SKI, Backpacker, Climbing, VeloNews, Pinkbike, CyclingTips, Outside TV, Warren Miller, Yoga Journal and more. The subscription also includes access to Gaia GPS, event entries, training plans, recipes, and interactive experiences with editors, pro athletes, coaches, and other experts.
This comes hot off the heels of Wahoo's latest launch, the second iteration of their acclaimed ELEMNT ROAM which launched in October 2022. This is the most powerful and intuitive GPS bike computer to be added to the Wahoo ecosystem. The new device was updated to include dual band GPS which delivers an enhanced and more accurate navigation experience especially when riding in areas where GPS signal can be limited - such as forests or mountainous areas. A 64 colour high contrast screen and an upgrade to the memory capacity of the ROAM to 32GB - allows users to manage and store a greater number of regional map packs and stored routes. A 17 hour, long lasting battery life also means it is easier than ever for riders to stay on course for longer.
"This integration with Trailforks is a big step forward in ROAM's goal of enabling cyclists to ride further and explore new boundaries", said Wahoo CEO Mike Saturnia. "This update sees Wahoo ELEMNT GPS bike computers cement themselves as the premier choice for any cyclist seeking performance, ease of use and unsurpassed routing capability."
"The Trailforks mapping platform provides thousands of bike routes curated by local riders," said Todd Neumarker, technical director of mapping for Trailforks. "In addition to these planned routes, the Trailforks platform hosts race courses and generates routes based upon popularity. Partnering with Wahoo to provide this data on the ELEMNT bike computer moves us one step closer to our ultimate goal to 'Get Everyone Outside'."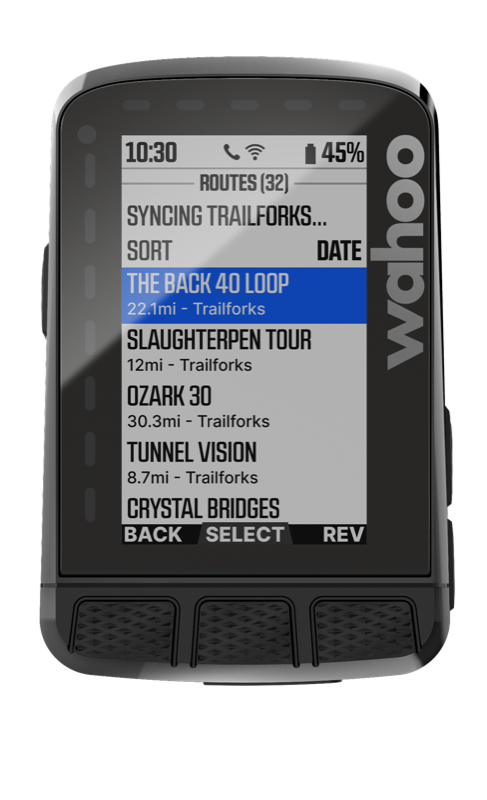 Beyond its mapping and navigation capabilities, the ELEMNT ROAM links seamlessly into Wahoo's connected ecosystem of indoor and outdoor training solutions. Wahoo X users can now broadcast MTB and gravel specific workouts directly to their ELEMNT ROAM computer, to be completed out on the trails. When looking to tackle workouts indoors, Wahoo X subscribers can benefit from the new 'Dunoon Crossover' road on Wahoo RGT, a brand new gravel 'Real Road'. Single track off road sections and resistance changes based on the ride surface, bring a whole new experience to virtual riding and racing for the very first time. Riders must now time their sprints and overtakes heading into the single track section so they're not caught at the back
Trailforks Pro is available for $59.99 per year. For more information visit: trailforks.com.
The new ELEMNT ROAM is available for $399.99. For more information visit: www.wahoofitness.com
Wahoo X is available for US$14.99. For more information visit: https://wahoofitness.com/wahoo-x-subscription