WASHINGTON (BRAIN) — The U.S. imported 37% more bikes in April than the same month last year, as the surge in bike imports that began in the second quarter last year continues. April's bike imports — at least in unit count — were down slightly from the month before, suggesting that March's figures were outliers.
Imports of many other bike products also continued at a high level in April, with monthly tire imports valued at over $10 million for the first time since at least 2002, the first year for which monthly figures are available. The previous monthly record was $8.9 million, set in June 2012. 
The figures, the newest available, were released Tuesday by the Commerce Department. The bike figures include all traditional bikes imported, but not e-bikes. The figures include imports bound for all retail channels, including mass market, e-commerce and specialty retail. The component figures do not include parts that arrive on complete bikes. The dollar numbers are for import value, which is roughly a third of the eventual retail value.
The bike figures
The U.S. imported 1.2 million bikes in April, up from 857,000 in April 2020 but down from April 2019's count of 1.3 million.
While the number of bikes imported was down, their value was up. The April 2021 import value was $140 million, or an average value per bike of $119. In March, the bike import value was $131 million, or an average bike value of just $87. 
The average bike value could reveal the price increases that are hitting the industry due to raw material costs and other factors. But the average bike import value fluctuates considerably month-to-month depending on the seasonal product mix that arrives at port. Average bike import values tend to peak each year in March or April.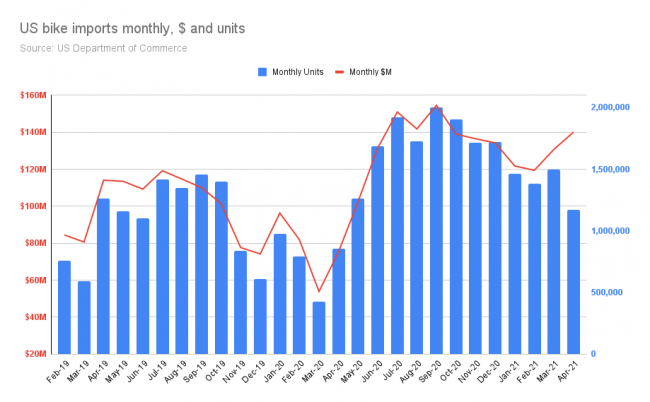 On a year-to-date basis, January-April bike imports were up 81% in units over 2020 and 56% over 2019. Dollar values were up 67% and 34% by the same comparisons. The average import value per bike for the first four months was 4107 in 2019, $101 in 2020 and $93 this year.
March's outlier figures
Generally, imports of bikes and bike parts have been surging since bottoming out in March and April last year, due to factory delays and canceled orders in the early months of the pandemic.
However, even in the context of the surge, March 2021 imports of bikes and most parts were notably higher than in recent prior months. Industry experts said that was due to order timing and a slight slow down in imports in early 2021 because of renewed tariffs on Chinese products.
In most product categories, imports returned to something closer to normal in April. For example, the value of derailleur imports in April was down 7% from the month before; pedal imports were down 14%; and saddle imports were down 16% — in all cases the values were higher than the same period in 2020 and 2019.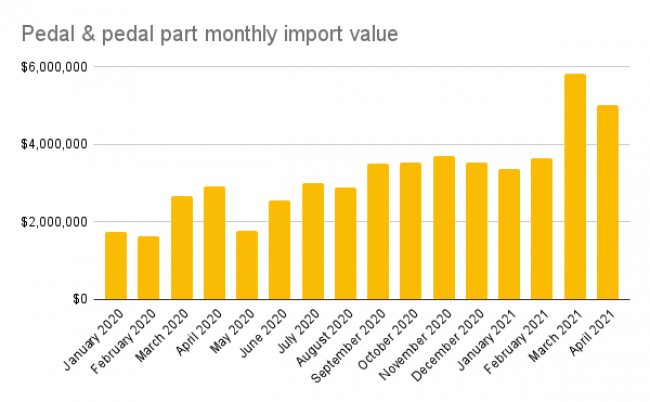 However, imports of tires and chains — two much-needed product categories for retailers — were up 39% and 20% respectively. April tire imports were worth a total of $10.3 million, up 127% from April 2020.