BOULDER, CO (BRAIN) Feb 1, 18:17 MT —Buoyed by mild winter weather that extended their selling seasons, independent bike dealers rang out 2011 with a bang as December sales surged 13 percent compared with the same month a year earlier, according to Leisure Trends Group's RetailTRAK data and Cycling Specialty Topline Report.
The result was powered by strong performance across nearly all major bike categories and price levels. Sales remained robust at lower price points, but as the recovery
'has been picking up steam, we've seen a bit of renewed life at the higher price points" as well, noted Greg Shoenfeld, retail relations manager at Leisure Trends.
For 2011 overall, IBD merchandise retail sales totaled $3.1 billion, up 7 percent from 2010. Bike sales ticked up just 1.3 percent in units but increased 9 percent in dollars sold as the average retail price rose 8 percent, or $51.90, to $713. Margins crept up 0.2 points compared with 2010, Shoenfeld said.
Road bike sales rose 7 percent in units and 16 percent in dollars sold in December. For the full year, road sales jumped 11 percent in units and 16 percent in dollars. Within the category, sport performance bikes continued to dominate, up 10 percent in units and 20 percent in dollars for December and rising 10 and 15 percent, respectively, for 2011.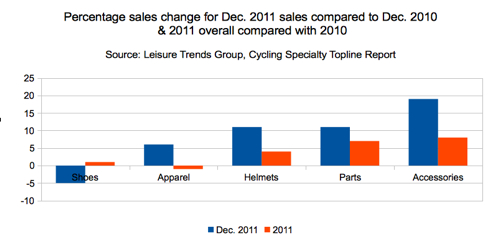 Triathlon bikes took a nosedive in December, down 12 percent in units and 16 percent in dollars sold. But the decline came on the heels of unusually strong growth in November, when sales spiraled upward 30 percent in units and 50 percent in sales, suggesting that tri enthusiasts may have hit IBDs for their holiday needs a month early. "That's a pretty wild swing going from a 50 percent increase in November to a 16 percent decrease in December," said Shoenfeld.
Despite faltering at the finish line, 2011 was a strong year for tri bikes, with unit sales up 24 percent and dollar sales rising 26 percent.
After months of declines in unit sales, mountain bikes rebounded in December with increases in bikes as well as dollars sold—up 8 and 19 percent, respectively. Twenty-niner sales continued to surge, up 75 percent in units and 55 percent in dollars, but 26-inch bikes also shared in mountain growth, rising 3 percent in dollars despite a 3 percent decline in units sold. Big-wheel bikes continued to steal market share, ending the year accounting for 23 percent of all mountain bike units sold in December, compared with 10 percent a year earlier.
Going forward, Shoenfeld believes the inventory picture at IBDs points to continued momentum for mountain bike sales. Carry-over is negligible, and inventory is up for 29ers but down for 26-inch bikes, he notes. "Last year, where retailers had trouble keeping 29ers in stock, it looks like we're starting the season in a stronger position to fulfill that 29er demand," he said. "If winter doesn't show up in March, the stores will be in pretty good shape."
—Toby Hill
thill@bicycleretailer.com