Editor's note: an earlier version of this article referred to Canyon's Future Mobility Project vehicle concept as the "Podbike." However, while many media reports about the concept used the phrase, it's not clear that Canyon ever called the vehicle a Podbike. A Norwegian company has trademarked the name for its pedal-powered car, which you can check out at www.podbike.com.
BRUSSELS (BRAIN) — Groupe Bruxelles Lambert, a Belgium-based investment group, has agreed to acquire a majority share in Canyon Bicycles. GBL was joined by Tony Fadell, a former senior vice president of Apple's iPod division and co-developer of the iPod, who is now the owner of a sustainability-focused company. Canyon founder Roman Arnold remains the largest individual shareholder in Canyon, with 40% of its shares. 
Among other investments, GBL is the largest shareholder in adidas and a major investor in Pernod Ricard, a French company that owns alcohol brands including Absolut Vodka and Glenlivet.
The U.S. group TSG Consumer Partners had made a significant investment in Canyon in 2016 before Canyon began searching for a new equity partner. TSG did not sell its stake prior to the transaction. Reports suggested that KKR and Carlyl were among the investment groups interested in Canyon and that Canyon was valued at about $600 million.
GBL and Canyon did not release a sales figure, but Financial Times said sources familiar with the transaction valued it at 800 million euros.
"We've become a global, digital champion through steady success," Arnold said in a statement Tuesday. "Through technology, global expansion and sporting success, we have accomplished a lot. Now is the right time to go further on the offensive, to take advantage of all the opportunities — and they are many. That's why I'm very pleased to partner with GBL, who have convinced my team and me with their passion for our business, years of experience and long-term focus."
Financial Times said sources familiar with the transaction valued it at 800 million euros
Fadell, who also co-founded Nest Labs, is a principal in Future Shape, an advisory and investment firm that works with businesses involved with sustainability efforts. He is also said to be "a passionate cyclist." Future Shape has previously invested in Superpedestrian, a supplier of e-bikes to share programs.
Fadell said, "Roman and his team have built an incredible business over the past 20-plus years. We are honored to help drive Canyon's inspiring brand to meet the growing interest in bicycles — from trail to track to commuting, while cars stay parked." 
Fadell's involvement suggests that Canyon, originally a brand for high-end cycling enthusiasts, will continue to expand in e-bikes and other mobility vehicles, such as the four-wheeled Future Mobility Project vehicle concept it showed in August.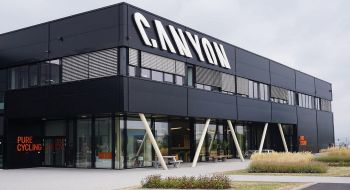 Canyon said in the past seven years it has grown at an average rate of 25%. In fiscal year 2020, sales topped 400 million euros ($486 million) for the first time. The company said it expects the transaction to be completed during the first quarter of 2021.
GBL's shares are traded on the Brussels EuroNext stock exchange. EuroNext stock quote.