TAIPEI (BRAIN) — An annual welcoming dinner at the Taipei Cycle trade show hosted by Velo saddle, Wellgo pedal and Prologo has been canceled, and show organizers are expected to announce Friday whether next month's show will be held as planned, canceled, or postponed because of concerns about the new coronavirus outbreak in China.
The Taiwan External Trade Development Council, the show's organizer, sent an email survey to registered show attendees on Monday to assess expected attendance. TAITRA asked registrants to return the survey by Friday. "We, like the rest of the world, are closely monitoring the developments regarding the outbreak of the New Coronavirus (2019-nCoV) with sadness and are taking the issue very seriously; as we know this is of great concern to you, our partners, exhibitors, visitors and staff," TAITRA wrote in the email.
Meanwhile, some exhibitors are circulating a petition asking TAITRA to cancel the show. It's unknown how many people have signed the petition.
Taiwan has had about 10 confirmed infections from the virus, about the same number as the U.S. While the U.S. State Department advises against visiting China, it has issued no warnings about travel to Taiwan.
Exhibitors and visitors from mainland China are not being allowed at the show and workers at the show will be required to wear face masks. The Taiwanese government recently enacted an entry ban on visitors who have been in China in the previous 14 days, and on Wednesday the country banned all Chinese nationals from entering the country.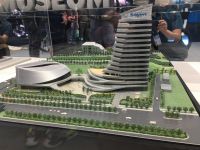 The opening gala dinner had been planned for March 3 at Le Meridian hotel in Taipei. The invitation-only event usually attracts hundreds of industry members who enjoy Taiwanese-style entertainment and toasts from Velo saddle founder Stella Yu.
Besides the Velo party, organizers of other events around the show are now assessing whether to cancel or reschedule. For example, Giant Bicycle plans a grand opening of its new Taichung, Taiwan, headquarters on March 3. Giant also plans to host a media event to launch a new bike model in Taiwan the week after the show. The company is now discussing options for the events. 
BRAIN stories on the coronavirus